Here Simon talks about his vast experience in the industry and why he became an Advisor to Camcon Medical.
Q. Can you tell us a little bit about yourself, your background and the type of sectors you have worked in previously?
A. After graduating in Life Sciences, I spent two years in academia at the molecular biology laboratory in Cambridge. In 1983 I made my move into industry and I haven't looked back since.
My primary area of focus has been in biotechnology, helping to develop and manufacture biologic drugs, including recombinant proteins and antibodies, for use in therapy and diagnostics. This involved working within the contract development and manufacturing services space, producing biologics in compliance with Good Manufacturing Practice (GMP) standards for use in clinical studies and for commercial use.
On top of this, I have been a CEO of public and private companies and a non-executive Director of various other companies in the sector. Right now, one of my roles includes being an Advisor to Camcon Medical. It's fair to say I have been quite busy!
Q. Why did you want to work with Camcon Medical?
A. There are two main reasons; one being that I have worked with Daniel in the past, and this has always proved to be an enjoyable experience. Daniel is a 'go-getter' who makes things happen, so when he approached me, I jumped at the chance to get on board.
The second is down to the fantastic technology; Binary Actuation Technology (BAT), which can fulfil significant unmet needs, such as, regulating oxygen supply and will ultimately improve patient safety and quality of life.
Q. What excites you most about BAT and its application to the healthcare/ medical industries?
A. One of the most important aspects about BAT is its ability to be adapted for a multitude of applications. A key example is its application in oxygen therapy, where it can effectively reduce the risk of inaccurate dosing for patients. Hyperoxygenation can cause complications for patients and can even be fatal. The technology works like a demand valve used in scuba diving – it reactively provides oxygen when needed, rather than a continuous flow. Also, the fact that it is silent is a real asset in terms of improving patient comfort and quality of life, especially for those with longer-term respiratory conditions. The financial savings to the health system, as a result of less oxygen wastage, can save hospitals hundreds of thousands of pounds per year, which is a huge benefit.
BAT's sleep apnoea application is also highly interesting, as sleep apnoea is a growing market due to the increase in people being diagnosed with the condition, often as a result of obesity. The current solutions for sleep apnoea patients are not what we should expect in the 21st century – BAT will propel us out of the dark ages and provide great advances, which will vastly improve patient adherence.
At present, our team has an initial focus on respiratory and medical devices, but the possibilities of this technology are endless – anything that requires precise control of fluid or gas could benefit from BAT. It's clear that BAT has long-term potential and I am eager to see the technology grow and succeed.
 Q. What are the challenges inherent in commercialising this kind of technology in the medical industry?
A. The medical industry is highly regulated, as patient safety is of upmost importance. For us, this brings challenges as there is great caution in the willingness to adopt new technologies.
BAT is disruptive and our challenge is to gain trust and acceptance of this new technology. To do this we need to show BAT's value and provide evidence of its effectiveness and benefits. Clinical studies are required and these are complex, time intensive and expensive to run. They involve gaining regulatory approvals (local or national), finding clinical units that are willing to partner with us and invest their time, and of course, willing volunteers. However, we are confident that once we have our clinical study up and running, it will be a success.
We believe that the Intelligent Medical Oxygen Delivery system (IMOD) would not only be of use in adults, but also with infants. This will present us with additional challenges and regulatory hurdles to jump, as we would need to conduct a clinical trial with infants in a critical care unit setting. We need early data to show that the technology works in adults/healthy volunteers first.
For us, the sleep apnoea application is a strategic starting point, as users of the technology are not in a state of immediate critical need, and so the studies and regulatory challenges are not as complex. We have begun the initial stages of the sleep study and are excited about the next few months, including eventually working with a partner to bring this to market.
Q. Where do you see Camcon Medical in five years' time?
A. Although still in its early stages, I would hope to see great strides with our sleep apnoea and IMOD systems in use in clinical settings across the UK market and globally, and that the use of this technology and the devices becomes standard practice.
Finding the right partner or partners is essential for advancing our progression in the healthcare industry – we are seeking partners not just to invest funds, but to add real value through their knowledge of the therapy areas, distribution capabilities and connections within the sector.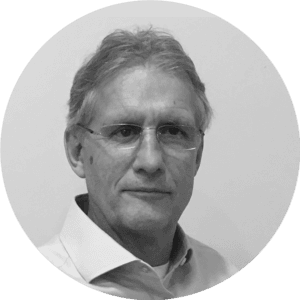 Simon Saxby